Hemp cultivation in 2019 seemed, in many ways, like a nationwide free-for-all. Confused and amused Americans gawked while driving past fields of cannabis sativa L, staggeringly large in size. Acres of a plant that had been demonized and outlawed for nearly a century now grew legally across nearly every U.S. state, all thanks to a legalization movement that culminated in the Agriculture Improvement Act of 2018.
But it was quickly apparent to everyone, from consumers and regulators to lawmakers and producers, that the regulatory standards implemented in a similar industry wouldn't suffice. Hemp's status as a close "cousin" to high-THC cannabis, or "marijuana," demands tactful, clear, even potentially controversial regulation to make headway as a legal commodity. An atmosphere of growing confusion and subsequent insistence on guidance led to the hastily implemented U.S. Department of Agriculture interim rules intended to shepherd hemp farmers while regulators study the issue for a release of permanent rules in two years.
Which states smooth the path for federally compliant CBD hemp?
Going forward with the 2020 growing season, perhaps the first thing to note about the USDA interim rules is that — in states operating under their own hemp pilot programs prior to the Oct. 31, 2019, release of these rules — lawmakers had the option to continue, until Oct. 31, 2020, with their states' programs as laws directed under the 2014 USDA pilot program.
But if states chose to drop their hemp pilot programs for the USDA interim version or just didn't have a pilot program in place, hemp farming in those states is dictated by those temporary rules. As of March 26, 2020, " … 20 states have said they will follow the 2014 pilot rules this growing season, outnumbering the 12 that have so far received U.S. Department of Agriculture approval for their production plans under the interim final rule." This distinction becomes significant when searching for compliant hemp genetics and investing in hemp seeds.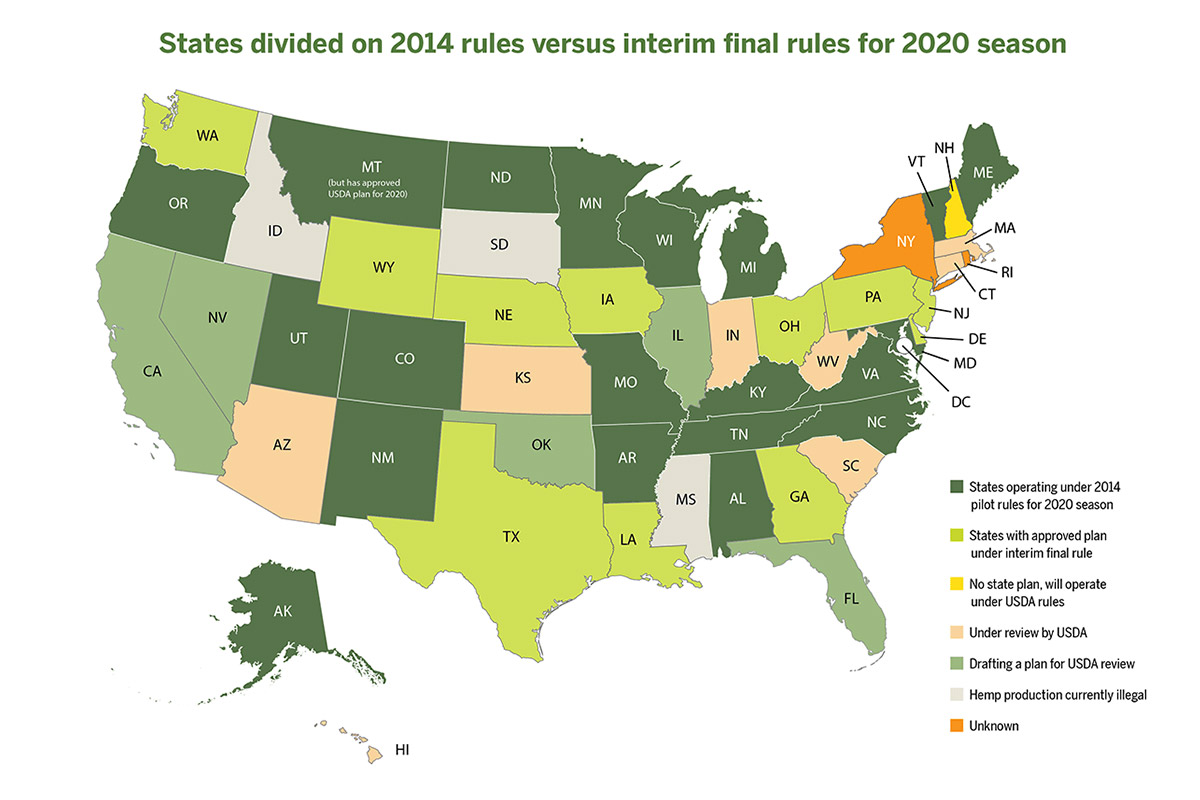 Do new hemp sampling and testing protocols affect your business?
Depending on how states move forward with the 2020 and 2021 growing seasons, several issues may arise. For those growing highly sought-after, fully matured, smokable hemp, high on the list of concerns are the sampling and testing requirements. The new USDA guidelines for testing hemp state: "The cut shall be made just underneath a flowering material, meaning inflorescence (the flower or bud of a plant), located at the top one-third of the plant." (5) Unfortunately, the top one-third of the plant gets the most light and has the highest levels of THC. This has farmers worried that their season of growing gorgeous, high smokable hemp flower may be rewarded with crop destruction by the DEA. "If it is determined a violation was committed with a culpable mental state greater than negligence, USDA will report the violation to the Attorney General and the chief law enforcement officer of the State or Tribe as applicable".
It's clear, now more than ever, how imperative it is to grow only trusted hemp genetics, certain to test compliant. The potential within each hemp seed must align with each farmer's growing methods, season plan and post-production structuring, as well as government officials, if and when they come to test. While hemp farmers constantly consider their commitment to compliance, they must simultaneously dole out attention to both farm operations and shifting market demands. Those who can maintain this balancing act can surge ahead of their competition.
When choosing hemp genetics and structuring a planting/harvesting schedule, another important rule to consider is: Harvest must occur "within 15 days prior to the anticipated harvest of cannabis plants" (2). So after sampling occurs by an approved official, that harvest must be done in two weeks — no matter the circumstances hemp farmers are facing, unless a program really is put into place that allows for weather and other exceptions. Thus, scaling down a season to accommodate rapid harvest, or staggering harvest with a carefully selected autoflower variety — strategies will need to be developed to ensure a legal hemp harvest.
Can another state's law enforcement threaten your hemp harvest?
The joy of navigating complex regulations doesn't stop once a hemp crop is harvested. It still must be processed into legal products and sold in a consumer market dispersed across a patchwork of differing state laws with perplexing degrees of enforcement at the local level. There are so many hemp-derived consumer products, from smokable flower or pre-rolled joints to CBD tinctures, extracts, infused foods and every other popular CBD (or CBG) product out there. The importance cannot be underestimated of selecting hemp genetics that eventually — and legally — will sell as a "final product" within the next piece of the distribution chain.
Some states may retain more lax rules on total THC. For example, Oregon technically allows up to .035% total THC for hemp harvested in 2019, and regulators consider it compliant hemp. The situation can shift drastically, however, the moment hemp products cross state lines. Be vigilant about the legal status of a finished hemp product throughout its shipping and in its final destination.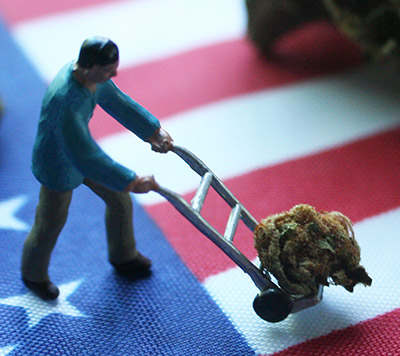 Distillates of CBD, without going through a process of THC remediation, always will test "hot" — higher than a concentration of 0.3% THC. So unless hemp products are infused in their home states to bring down their final concentrations, those product have no legal way of being sold to a processor or consumer in another part of the country. Likewise, a smokable hemp flower in one state could very well be a nug of "marijuana" to local law enforcement in another state, even if it's just barely over the THC threshold.
And bear in mind that, starting Oct. 31, 2020, all hemp farmers — regardless of their states — will be subsumed under the USDA interim regulations until the final rules are released (supposedly by Oct. 31, 2021). Thus, any potential wiggle room afforded by differing state laws will end, and a more stringent plan will be required for hemp and hemp products following implementation.
The lesson here is that under current laws, there are many ways that hemp farmers and their products can be non-compliant. Prepare and plan ahead to efficiently funnel resources, time, energy and hemp into multiple diverse channels that might account for and mitigate potential hazards. Hemp farmers who harness their strengths by adjusting timing and strategies for production and sales can adapt to unforeseen obstacles or shift gears as the market demands.
How do emerging hemp regulations impact the industry's future?
Until federal and state regulators choose fair, well-informed, and consistent rules, farmers must continue to navigate carefully in an uncertain environment. Have your voice heard in Washington by supporting trade groups like The Hemp Industries Association and the National Hemp Association. When opportunities arise to write letters to your congressmen or the USDA, take them! We must continue to push for commonsense hemp laws.
In the meantime, choosing a sound approach — from selecting the right genetics to a well-thought-out harvest plan and sales strategy — can make or break a season. Leave room for flexibility, take advantage of multiple holes in the market or simply utilize strengths in farming or sales to fill a niche. Until a homeostasis is reached between the hemp industry, regulators and consumers, it's clear that success will require diligence and malleable business strategies while keeping an eye on what's to come in the future of hemp laws and regulations.